Italian language programs in Florence
Michelangelo Institute
ITALIAN LANGUAGE AND CULTURE SCHOOL IN FLORENCE SINCE 1975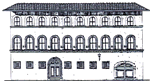 Founded in 1975, the Michelangelo Institute, Italian language school, is open all year round, welcoming students of all nationalities who wish to begin, continue or perfect their knowledge of the Italian Language.
The school is housed in Palazzo Gherardi, a XV century building in the old sector of Florence, in close proximity to the National Museum, the National Library, the Church of Santa Croce and the University of Florence.
Traditionally, the school has always offered its students every opportunity to make themselves at home with Italian life and culture. Besides regular courses, the school makes available a series of extra-curricular programmes, both cultural and recreational, which help students to enjoy and appreciate, in the best way possible, their Florentine stay.
Visits to museums, participation in concerts, excursions, showings of films, conferences, dinners in restaurants and trattorias, meetings with Italian students, visits to markets, and evening get-togethers are organised by the school staff, who, besides teaching, give a special attention to student meetings.
All teachers hold a university degree and have undergone specialised training for the teaching of Italian as a foreign language.
Italian Language Schools
Via Ghibellina 88 - Palazzo Gherardi
50122 Florence – Tuscany
Italy
Phone +39 055 240975
Fax +39 055 240997